By Dominic Scianna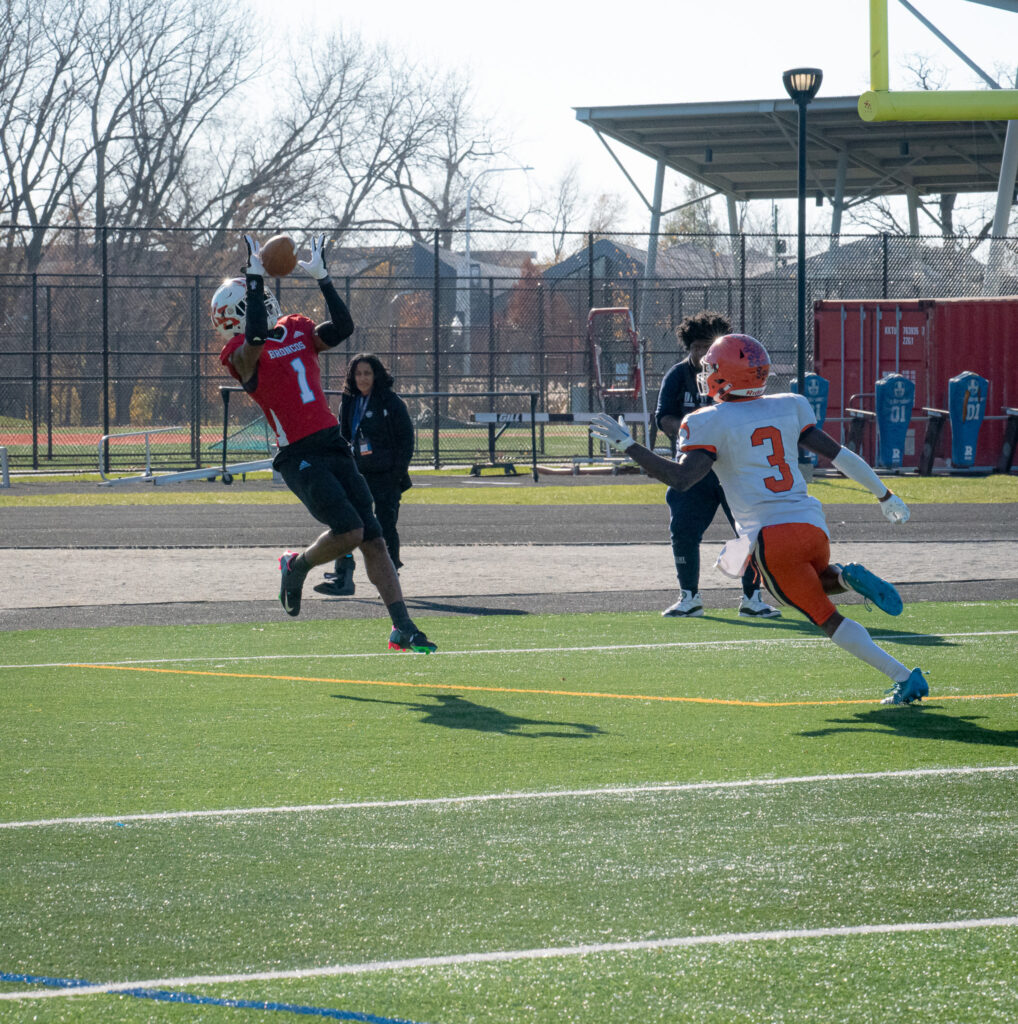 In one of the better Chicago Public League (CPL) championship football contests in recent memory, Kenwood Academy held off Whitney Young to win the city title for the second time in three years with a thrilling 26-19 victory on Fritz Pollard Field at Lane Stadium on Saturday, November 18.
"It feels wonderful to be among some elite coaches in winning the City Championship multiple times," Kenwood head football coach Sinque Turner said. "We did face a lot of adversity this year but a lot of the teams that beat us are still playing (in the IHSA state playoffs)."
Kenwood's 8-4 record is impressive when considering their only losses have come to Class 8A finalist Lincoln-Way East, Class 7A finalist Downers Grove North, Class 5A quarterfinalist and fellow CPL member Morgan Park and Chicago Catholic League City Playoff Champion St. Rita. 
St. Rita and Kenwood will face off again in the Marquee Sports Network Chicago Prep Bowl. The historic game dating back to 1927 will be televised live by the Marquee Sports Network on Friday, November 24, at 1 p.m. from Fritz Pollard Field at Lane Stadium.
Coach Daniel Finger's Dolphins squad came out firing to begin the CPL football city championship on Saturday, holding the Kenwood offense at bay early in the first quarter to take a 6-0 lead on a 21-yard touchdown pass from Dolphins quarterback Anthony Hood to running back Luke Yolich.
A big momentum swing came to start the second quarter when Kenwood senior I'Marion Stewart, a University of Michigan recruit, returned a Whitney Young punt 57 yards for a touchdown to give the Broncos their first lead at 7-6.
"Big players make big-time plays," said Turner, when talking about Stewart's highlight-reel TD scamper. "He's everything as advertised and there's a reason why he's headed to Michigan. Whenever we need a spark we put the ball in his hands."
After an interception by defensive back Demaje Williams gave Kenwood great field position, the Broncos took control as QB NaCari McFarland found Mako Grant for a 33-yard TD strike upping Kenwood's lead to 13-6 with 7:24 left in the second quarter.
That's when Coach Finger came up with some trickery in his offensive arsenal to flip the script and tie the game before halftime.
Whitney Young wide receiver Nasir Rankin took a handoff from Hood and threw to sophomore Josh Gray, who was wide open down the middle of the field with 3:02 to play before halftime. The picture-book trick play resulted in a huge touchdown strike to tie the game at 13-13, and that score would stand as the first half ended.
In the second half, it was all Kenwood taking the lead again with a 6-yard touchdown run from Patrick Clacks III to make the score 19-13 in the third quarter. Then Grant got his second score of the game on a 3-yard rush with 2:29 to play in the fourth quarter to extend their advantage to 26-13.
But the Dolphins (9-4) weren't done as they looked to come back with some late-game heroics. Finger inserted Bennett Neumann at QB and the senior hit Rankin with a late TD pass as Young cut the lead to 26-19 with 1:02 to play.
Kenwood recovered the ensuing onside kick to end Whitney Young's comeback bid and secure the win for the Broncos in a well-played and exciting CPL title game played in front of an energetic fan base from both schools.
"They (Whitney Young) came out electric. They were small but had big hearts – tiny but mighty," said Grant, a senior halfback and defensve back for Kenwood. "Coach Q (Sinque Turner) always puts us in position to win and we rallied behind him today and made it happen."
Kenwood now moves on to face the Mustangs of St. Rita (7-5) in The Marquee Sports Network Chicago Prep Bowl on November 24 pitting the winners of the Public League and Catholic League football championships.
The Mustangs and Broncos squared off earlier this season with St. Rita winning a 33-20 shootout on their home field on September 1.